At the core of Vectans Pharma is a powerful, flexible technology platform that uses advanced knowledge of chemistry to overcome challenges of developing new therapeutics.
Lauriad® is an innovative technology platform, shaped as a small muco-adhesive tablet, aiming to design therapies with best-in-class potential.
Lauriad® was conceived to reveal and optimize the full potential of a large portfolio of active substances.
Currently, it is the only mucoadhesive tablet able to ensure drug diffusion over more than 12 hours.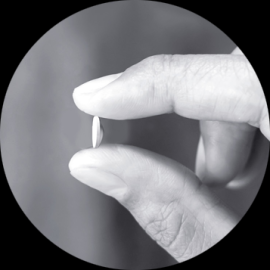 Systemic treatments deliver their active principle into the body without specific distribution, while topical agents deliver the active principle at the site of the disease – but active concentrations are usually too low and too short to provide rapid and sustained efficacy.
This has been overcome with the development of mucoadhesive buccal tablets with sustained release properties.
The mucoadhesive dosage forms offer prolonged contact at the site of administration, low enzymatic activity, and patient's compliance.
Vectans Pharma owns a unique technology that opens the way to a new therapeutic horizon: the sustained release muco-adhesive drug delivery system, a new route of administration delivering early, high and prolonged concentrations of an active substance at the disease's site.
Lauriad® is an innovative technology for high-performance delivery.

Lauriad®'s targeted action avoids the first-pass hepatic effect:

Limitation of drug interactions and adverse effects

Lauriad®'s targeted action avoids gastrointestinal enzymatic degradation

Lauriad® enables a targeted action at the site of infection by releasing an early, effective and prolonged concentration of an active substance:

Limitation of doses
Improving compliance
Improving treatment outcomes
Ecology of drug taking

Lauriad®: a new cutting edge technology with the potential of improving the use and efficiency of existing API.